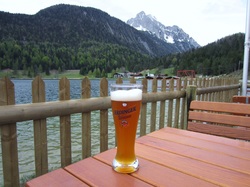 OK, the beer has nothing to do with the stories I published, I just like the photo. It's very Bavarian, don't you think?
I did publish two stories from the trip, however. Check 'em out.
A conversation with the Night Watchman of Rothenburg
: I chatted with the guy who does the wildly popular Night Watchman walking tour in the medieval walled village of Rothenburg ob der Tauber. He's kind of an accidental star--he applied for the job on practically a whim, and has become a main attraction.
Exploring Munich's painful history:
Lest the previous story left you feeling unpleasantly cheery, for this story I visited the new
Munich Documentation Center for the History of National Socialism — which explains how the Nazis came to power in Munich. Grim and educational.