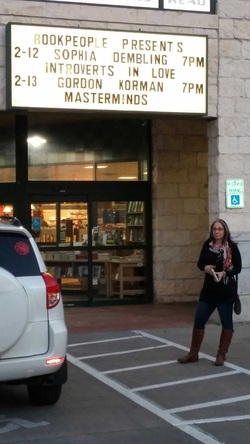 I had the fabulous opportunity last week to talk to two of NPR's best interviewers.
First I chatted with Brian Lehrer on WNYC. You can listen to that
here
.
Then I spent an hour with Krys Boyd on the KERA show Think. That's posted
here
.
After I finished the second interview, I hopped in my car and zoomed down to Austin for an appearance at BookPeople, which was great fun. Thanks to all who came out!
Two funny stories : One of the Think producers said she got a few phone calls from people who said that they didn't want to go on the air but would she ask me a question for them. (No--so they emailed their questions.) And a guy who works at BookPeople said he'd never seen so many people lurking around the edges of the area where I was speaking, watching from a distance. I could see people peeking around bookshelves. My people.